What Sets Us Apart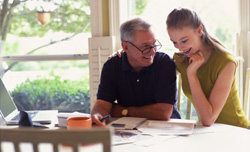 At Ipswich Bay Financial, you will find that our commitment is to help clients reach their individual financial goals. Unlike some companies that offer "standardized" solutions to complex problems, we listen to you, think objectively in terms of how to best meet your needs. By working within your existing financial plan we will help develop strategies that are customized for your solutions.

Our process is tailored to fit with your specific needs during the 3 phases of planning.

Accumulation Planning:
Do you know where all your assets are and how they are doing?

How do you know you are on track for retirement, college funding or other financial goals?

What have you done to eliminate obstacles to maximize accumulation.




Such as:
Taxes

Fees

Market risk

Disability

Death

Lawsuits

Inflation
Distribution Planning:

Do you have a strategy to assure your income will last for your lifetime?
What is your strategy for adverse markets in retirement?

Have you prepared for the possibility of rising inflation?

Have you considered your options for when and how to take social security?
Succession Planning:
Have you worked with your financial, tax, and legal advisors to develop a plan to pass along your wealth and or business?

When was the last time you reviewed your estate documents?

Have you determined who your successor will be?
For a complimentary consultation or brief introductory conversation feel free to contact me directly.